TLE Newsletter: March 2015
Welcome to TLE's March 2015 newsletter!

Welcome to the first issue of the Teaching and Learning Excellence newsletter! The TLE group, led by Penny Bamford, RN, PhD, Assistant VP of Academic Affairs, is comprised of four departments:
Assessment of Educational Effectiveness (Valerie Landau, director)
Academic and Instructional Innovation (Tanya Knoop, director)
Institutional Research (Nandini Dasgupta, director)
Library (Hai-Thom Sota, director)
In This Issue
Teaching & Learning Excellence Updates
What is Teaching and Learning Excellence (TLE)?
The TLE group is a model for continual improvement and helps ensure that SMU is aligned with institution-wide core learning competencies, national standards, and specialty accreditation competencies. As the epicenter for continuous improvement, TLE has as its mission to innovate and support the university in maintaining and enhancing its reputation for teaching and learning excellence in health sciences.
To learn more, see the TLE Strategy Plan.
Improving Teaching with Technology Mini-Grants
Faculty members can receive a $500 stipend by experimenting with new technology or pedagogy in the classroom. There have been 58 research grants awarded so far. The Faculty Development Committee is now assisting with the administration of this program.
Check out the Canvas site for this initiative.
Here's the new report template.
Here's the new process for receiving a mini-grant: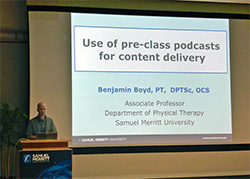 Try something new involving technology in your class that improves either student engagement or student learning.
Gather evidence of how it impacted learning or engagement.
Complete the new mini-grant report template.
Post your mini-grant report to the 2015 Final Report Discussion Board for review by the Faculty Development Committee.
Receive $500.
Present your experience at the next Improving Teaching with Technology Symposium in February 2016.
Tip of the Month
Looking for Some Well-Designed Rubrics?
The American Association of Colleges and Universities brought together experts from over 100 institutions to develop rubrics on 16 topics. They are free to download and modify, but AAC&U asks users to log in so they have a record of downloads.
Here's a sample rubric for Written Communication.
If you use their rubrics in your course, please include the following:
"Reprinted with permission from Assessing Outcomes and Improving Achievement: Tips and Tools for Using Rubrics, edited by Terrel L. Rhodes. Copyright 2010 by the Association of American Colleges and Universities"
Faculty Highlight: An Example of Teaching and Learning Excellence
ELMSN Program Director Teresa Gwin, EdD MSN NP, created an innovative assignment that uses quadruple loop learning and fully leverages the power of our simulation center to differentiate it from other simulation centers. First, she engaged students to work in small groups to reflect on their clinical practice in order to write their own scenarios for the mannequins. Students then conducted peer review and selected a few scenarios to run with the simulator. They ran the scenarios with the mannequins and then debriefed about how they could improve their clinical practice.
Mei Lin Fung, Ambassador of Global Network Outreach Health Occupation Students of America, described the outcome as "a profound learning experience where students become their own teachers and faculty serve as mentor to guide the discovery."
Dr. Gwin summarized her experience, "I work with a group of extraordinary students who bring a wealth of experience to nursing. This project utilized their critical thinking and their enthusiasm to learn by pulling from newly obtained clinical experience and putting it into applicable action--See one, do one, teach one".
Read Dr. Gwin's report from the Improving Teaching with Technology Symposium here.
Events
Upcoming Events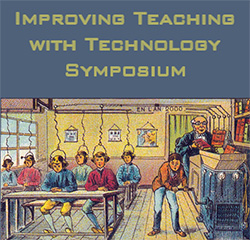 Save the date for this workshop introducing new video resources for SMU Faculty:
May 12: Lunch and Learn: Video Resources and Support
Noon in Oakland and streaming live via Adobe Connect if you can't be there in person.
Past Events
April 8: Lunch and Learn: Demo and discussion on resources to improve student writing and expedite grading
March 10: Lunch and Learn: The value of classroom response systems--clickers and Socrative
January 21: Improving Teaching with Technology Symposium, showcasing faculty using technology to improve student engagement or learning. Read the summary report.
Read an article about the Symposium.
Department Updates
Assessment of Educational Effectiveness
The Curriculum Mapping Initiative (CMI) can help faculty analyze and improve curriculum and student learning.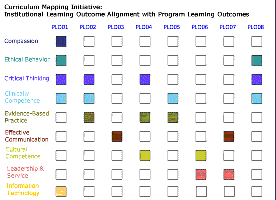 Faculty members have partnered with Director of Assessment Valerie Landau to conduct research supporting their scholarship of teaching and learning. Over fourteen studies related to CMI have been presented at national conferences, and four more presentations will be made this spring.
The research study "Does teaching about diversity, health disparities and social justice result in learning? A content analysis of student work" will be presented at NCORE in May 2015. Researchers reviewed evidence of student learning documented in CMI for the ABSN program to see if students were addressing issues of diversity, health disparities and social justice. The principal investigators are Nancy Haugen, PhD, RN, Associate Dean of Prelicensure Programs; Margaret Rivero Early, PhD, RN, Associate Professor; Valerie Landau, Director of Assessment; and Shirley Strong, M.Ed., Chief Diversity Officer.
Academic and Instructional Innovation
The A&II department has new staff and a new strategic plan. To learn more, see the TLE Strategy Plan, page 16.
The A&II staff is enthusiastically looking forward to helping you with your ongoing efforts to improve teaching and learning:
Tanya Knoop, Director of Academic and Instructional Innovation
New! Christine Broz, Senior Instructional Designer
New! Elba Rios, Instructional Designer
New! Beverly Saar, Instructional Technologist
New! Brian Gothberg, Online Teaching Specialist for DNP
Daniel Grobani, Academic Systems Administrator
Institutional Research
Institutional Research recently implemented the spring 2015 issue of two major institutional surveys, the "Student Campus Services, Resources and Climate Survey" and the "Faculty/Staff Services, Resources and Climate Survey". Each survey provides crucial feedback for improving services, resources, and the climate of inclusivity at SMU. Participation in the surveys may also lead to personal benefits from reflection on one's own experience at SMU. Results of these surveys will be available at the end of May 2015.
Institutional Research is also piloting EvaluationKit, an online course/instructor evaluation system, in spring 2015. EvaluationKit enables creating custom questionnaires, easier and more efficient deployment, and faster reporting, resulting in the improvement of instruction quality and student learning. IR plans to use this tool for both summative and formative course/instructor evaluations. The DNP, FNP, DPM, MOT, and CRNA programs are participating in the pilot project, and findings on the new process and the tool will be available in May 2015.
Library
To support students and faculty in their after-hours research, a librarian is now available in the library until 8 p.m. every Thursday.
Did You Know? Four New Things Happening in Teaching and Learning Excellence
Discover developments in Teaching and Learning Excellence (TLE) while experiencing how the student-response system Socrative works. Take a few minutes to answer these questions on a smartphone, tablet or computer.
On a smart phone, tablet, or computer, go to Socrative.com. Select "Student Login," and then enter "cbroz" for the Teacher's Room.

What was the result of an assignment where students wrote their own scenarios for the HSSC?
Where can you find 16 high quality rubrics?
When is the next Lunch and Learn?
How many Improving Teaching and Learning with Technology mini-grants have been awarded in the past two years?
Suggestions?
Please email Christine Broz with comments and suggestions about what you'd like to see in this newsletter.