TLE Newsletter: July 2017
Welcome to TLE's July 2017 newsletter!

Greetings from the Teaching and Learning Excellence (TLE) group!
TLE is the Office of Assessment, Academic and Instructional Innovation, and the Library, and we have lots of new ideas, tools, and reviews to share with you in this July issue of our newsletter.
We're honored to partner with you to improve teaching and learning. If you have ideas or suggestions for this newsletter or would like us to highlight your work, please contact us.
In This Issue
Scholarship of Teaching & Learning
Academic Tools
Five Reasons to Love Updating Your Syllabus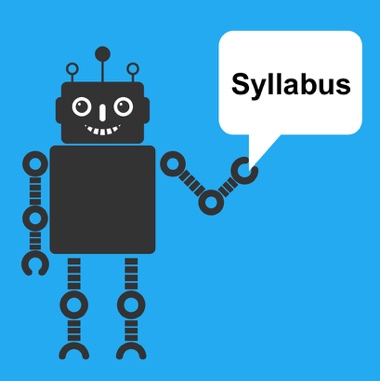 Watch out for a SyllaBot on the loose in Canvas! It automatically generates the most tedious parts of your syllabus for you as a Word document. Don't worry--you can edit it as you wish.
We noticed how difficult it was for faculty to find current SMU policies and to format their syllabi, so we came up with a way to make your life easier by mining available data and filling in some of your syllabus for you. (Please note that SyllaBot is not available for MSN Online syllabi).
SyllaBot is designed to:
save you time in creating your course syllabus.
provide you with a syllabus in the standard SMU format.
ensure that your syllabus includes the most up-to-date SMU policies.
harness the power of Canvas to synchronize your syllabus with your canvas modules.
help you identify and correct common errors in syllabi.
SyllaBot is collaboratively designed and developed by the Faculty Organization Curriculum Committee, Academic & Instructional Innovation, and the Department of Assessment.
New e-Form Makes Curricular Change a Snap
Submitting new courses or revisions to the Curriculum Committee has never been easier. In a collaborative effort to streamline the submission process and save trees, Committee Chair Gaye Raymond, Marie Ma, and Valerie Landau transformed the paper-based process into an e-form that simplifies submission, approval, routing, and archiving of new and revised courses.
Make the Canvas Gradebook Work for You
A time-saving feature in Canvas allows you to email select students quickly and efficiently from the Gradebook rather than one by one when they:
haven't submitted an assignment yet
scored less than a particular point value
scored more than a particular point value
haven't been graded yet
For how-to information, see How do I send a message to my students from Gradebook?
Plan Panopto Videos Like a Pro
Do you need to create videos for your course? Do you need training on Panopto? Plan one term ahead. Schedule a consultation with A&II's Elba Rios to discuss your video needs, to review video best practices, or explore strategies for using video in your class.
Remember to review and organize your videos for the next term at least four weeks in advance of the course start. Make sure your videos are still factually relevant and current.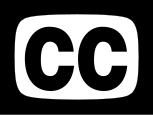 It's SMU's policy that all videos should be captioned to ensure disability access. You can now request closed captions for your Panopto videos directly and easily. Before you publish your Canvas course, allow 4 business days to complete a captioning order.
Visit A&II's Panopto page to see all of our Panopto resources, including captioning instructions.
For questions about using Panopto, contact A&II's Elba Rios.
For questions about disability access, contact Elisa Laird-Metke in the Disability Resource Center.
Get Drug Information with the Help of an App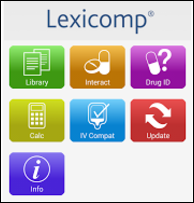 Use the Lexicomp app for on-the-go access to more than 20 databases, featuring timely, in-depth information on drugs, natural products, interactions, medical calculations and more. Content is stored directly on your mobile device, allowing you to quickly answer questions even if there is a weak mobile signal or no internet connection.
Content includes:
interactions
drug ID
calculators
I.V. compatibility
patient education leaflets
toxicology
To install the Lexicomp app, see Installing Lexi-Comp on Your Mobile Device.
For how-to information, see Lexicomp Mobile Apps Quick Reference Guide.
Questions? Ask Librarian Sarah Naumann.
Scholarship of Teaching & Learning
SMU's Great Ideas for Improving Teaching & Learning
"Every year the Faculty Research Symposium gets better and better," said Provost Scot Foster at the 2017 Faculty Research Symposium on May 5. Faculty presented their research on the Scholarship of Teaching & Learning as well as Discovery and Integration.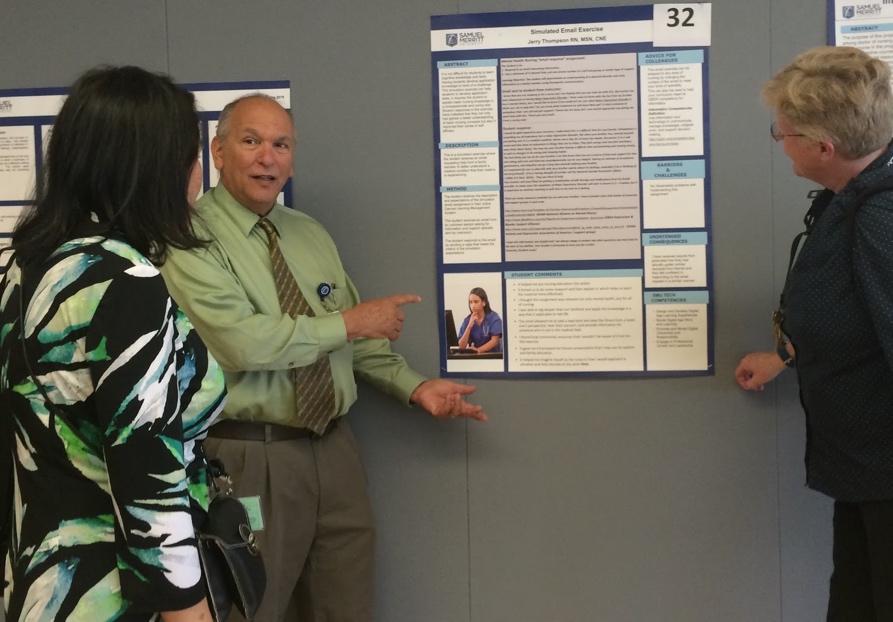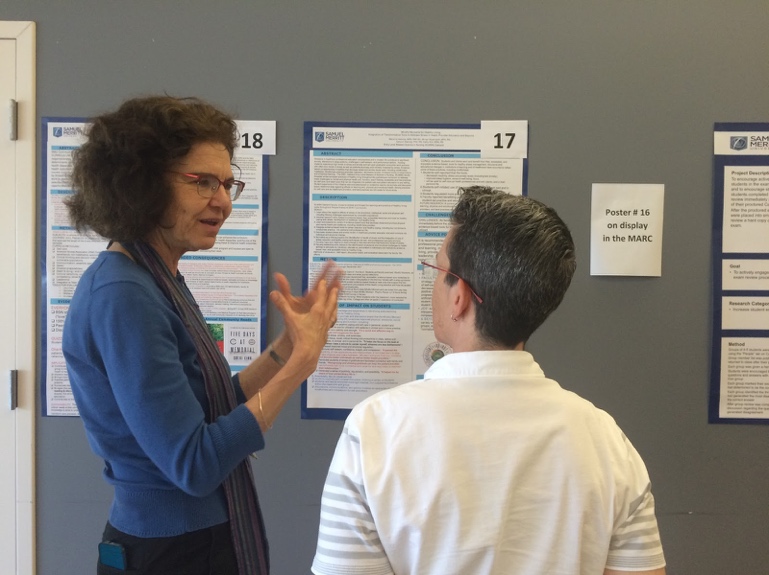 Faculty engagement was at an all-time high, including lively Q&A and informal discussion at the lunch and poster demonstrations.
The 41 engaging faculty research posters and podium abstracts are archived on the Spring Scholarship Symposium website.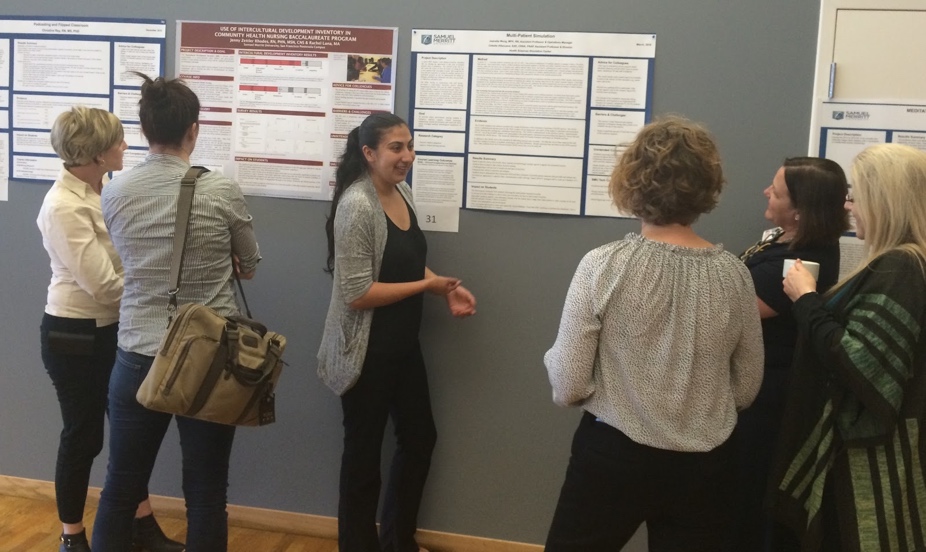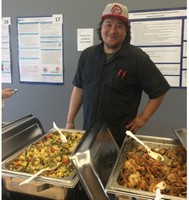 Students who collaborated with faculty on research also presented their work, a welcome new feature of the Symposium.
The delicious lunch served by Town Kitchen inspired enjoyable and meaningful conversations, followed by Poster Slams where faculty presented 1-2 minute summaries of their posters.

One of the goals of the Spring Research Symposium is to support faculty research by providing developmental feedback. Professor Pamela Minarik gave a podium presentation demonstrating how she integrates online videos in the PTSD Toolkit and phone-based Have Your Ever Served mobile learning simulations to help students improve care for veterans.
Based on the feedback she received from colleagues, Professor Minarik went on to refine her presentation with support from Valerie Landau, Director of Assessment. She then recorded a series of instructional videos with Instructional Designer Elba Rios and Instructional Technologist Beverly Saar. Pamela will present this summer in Japan and is planning to write an article for publication.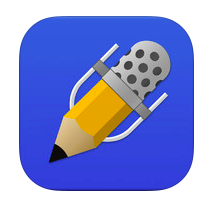 Among the many faculty who shared technologies or pedagogies that significantly improved the student experience was Assistant Professor Kamla Ahluwalia, who shared her successes using the drawing app Notability. After experiencing ongoing frustration using the SMART podia technology to project and draw on a presentation, Kamla started using this app to improve the teaching experience. Many students began using it as well and found it useful for their own learning. The most significant benefit she saw was the increased student engagement in and outside of the classroom. Students can use this app in several ways:
drawing along with the instructor on their own version of a presentation slide diagram
recreating the instructor's drawings as homework
creating their own drawings and sharing them electronically with the instructor to check
creating study materials
Kamla reported that this app can make interactive any class where a projector is used. For more information, see Kamla's Improving Teaching with Technology grant poster, The Notability App and iPads.
Grants: Get Them While They're Hot!
Scholarship of Teaching & Learning: Improving Teaching with Technology grants for 2017 are still available. For instructions and past submissions, see Scholarship of Teaching and Learning: Improving Teaching with Technology. Consider consulting with Assessment or A&II staff before starting a project.
Making Possible the Transformative Mission of Higher Ed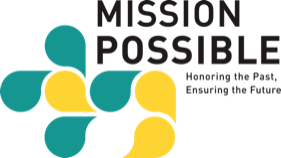 (Conference highlights by Valerie Landau)
This year's WASC Academic Resource Conference (April 2017, San Diego) had a sense of urgency I'd not experienced in prior years. Higher education must raise the bar–or face catastrophic consequences.
Both keynote speakers made impassioned calls to radically change higher education institutions at their core, to become engines of change to save the planet.
Bill Strickland, President and CEO of Manchester Bidwell Corporation and author of Making the Impossible Possible, opened the conference by defining respect for students, particularly those who have been excluded, as the key to success. Providing a beautiful space and healthy meals for traditionally low-achieving students was as important to Strickland as providing training and mentorship. "Life is about motivation and hope. And if you give people enough sunlight, enough good food, and enough aspiration, you can actually change the trajectory of their lives."
Diana Chapman Walsh, President Emerita of Wellesley College, made an emboldened plea for administrators to move successful innovative programs from the periphery into the center or core of the institution. She asked educators to radically strip legacy bureaucracy that is driving up costs and preventing fundamental change. She rallied for transformation of how we teach, what we teach, and how we manage our infrastructure.
She calls on the educational community to reverse the mentality that leads to business as usual and to empower students to be critical thinkers who are actively engaged in defending Planet Earth.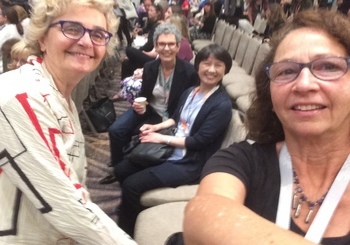 Penny Bamford, Stephanie Bangert, and Valerie Landau at the keynote WASC ARC, 2017.
(Conference highlights by Christine Broz)
Faculty learning communities was a hot topic in many sessions again this year. Presenters noted how participation in faculty learning communities has an impact on improving teaching by:
connecting peers with similar interests across programs
promoting evidence-based teaching practices
developing reflective practices in a community of inquiry
developing research about teaching and learning
The SMU community comes together once a year at the Spring Scholarship Symposium to share ideas on teaching and learning, but if you're interested at any time in joining a faculty learning community on a topic of interest, please contact A&II's Christine Broz.
What We're Reading
15-minute Study Hack Lifts Grades One Level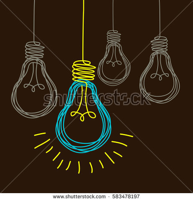 A Stanford professor added a few minutes in class for students to reflect on the effectiveness of their study skills and were offered prompts to help them think about how they studied, and how they might study more effectively. See the article here.