A&II Newsletter: October 2018
Welcome to A&II's October 2018 newsletter!

Welcome to A&II's October 2018 newsletter! Meet our newly expanded team, and learn about upcoming workshops, new ideas, and helpful resources for improving teaching and learning. And in case you missed any of them, be sure to check out the past issues of our newsletter.
If you have ideas or suggestions for this newsletter or would like us to highlight your work or the work of a colleague, please contact Christine Broz.
In This Issue
Upcoming Events

Scholarship of Teaching & Learning
A&II News
Meet the New A&II Team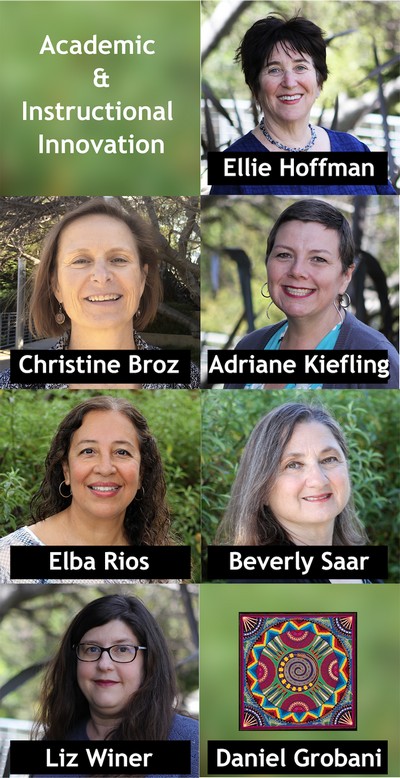 A&II and the Online Nursing Program have joined to form a new A&II team. In the coming months we'll be expanding the team to increase our support of SMU faculty. Here's our current team:
Ellie Hoffman, Director
Christine Broz
Daniel Grobani
Adriane Kiefling
Elba Rios
Beverly Saar
Liz Winer
A&II is now supporting all SMU faculty in:
developing online and hybrid courses
using Canvas and other academic technologies
improving teaching and learning
video and multimedia production
course design
To request support, contact A&II Director Ellie Hoffman.
Support for Online and Hybrid Courses
With the merging of the Online Nursing Program with A&II, the new A&II team now supports SMU's online as well as hybrid courses. Beginning in 2011, the Online Doctor of Nursing Practice degree was the first fully online program at SMU. The Online Family Nurse Practitioner program followed in 2015, quickly becoming the largest graduate program in the School of Nursing, with nearly 70 new students starting in Fall 2018. The RN to BSN program, launched in 2016 on two campuses, has several hybrid courses. The program has 99 new students starting during 2018.
SMU online and hybrid courses are structured as asynchronous modules that take advantage of the latest instructional technologies, giving students the flexibility to study when it fits their schedule while keeping them engaged and connected.
If you're interested in learning more about online courses at SMU or in exploring creating an online or hybrid course, contact A&II Director Ellie Hoffman.
Upcoming Events
A&II and CIEL are offering the following workshops in October. You can find more info and register here.
Canvas Basics
Canvas Quizzes
Canvas Best Practices
Panopto Video Recording
Scholarship of Teaching & Learning
Faculty Reap Rewards of Canvas Best Practices
A&II's instructional designers have worked with 25% of the faculty in the Pre-Licensure programs to help them use Canvas Best Practices in their courses. Our follow-up survey of faculty found that:
92% found it valuable to reorganize their courses using the Canvas Best Practices model.
73% indicated it will save them time in preparing their course for the next term.
58% reported a positive impact on the student experience, as indicated by fewer questions from students about assignment expectations and the location of learning resources.
50% reported a significant improvement in student course evaluation ratings related to the course organization.
83% found it helpful to work with instructional designers.
Read the full report or learn more about Canvas Best Practices. To request support, contact A&II Director Ellie Hoffman.
New Online Training Helps Improve Student Academic Research

In a fruitful interdisciplinary collaboration, SMU librarians, faculty, and instructional designers piloted a plan to efficiently and effectively teach new online FNP students how to use online library resources to successfully perform graduate-level academic research.
SMU librarians collaborated with Online MSN program staff and faculty to provide live, synchronous instruction to online students for their first-semester research course. This resulted in greater student comfort in using the library and more effective engagement with the librarians. Additionally, faculty were satisfied with the improved quality of students' academic research. View the presentation here.
A similar session is being planned with the Student Services team. To explore the development of an online program like this for your students, contact librarians Leia Casey or Sarah Naumann or A&II instructional designer Liz Winer.
Request Your Own Workshop

A&II would be happy to assist you in continuing your faculty development by providing hands-on workshops for your program or a smaller group of faculty. No group is too small, and learning is often more meaningful and fun with your colleagues. We can help you solve a teaching problem, learn to use tech tools, plan a Scholarship of Teaching and Learning project, or prepare your Canvas courses for peer review. Select from these workshop topics, or propose your own:
Assignment Design: new ways to evaluate your assignment for better student performance or to develop new assignments
Canvas Best Practices: approaches to re-organize your content for student clarity and faculty time-saving
Student Response Systems: strategies to engage students and gauge their understanding with various high-tech and low-tech approaches
Flipped Classroom: techniques for implementing this popular pedagogy
Student Engagement: proven and novel tips to get and keep students actively engaged
Interactive Video: ways to give student immediate feedback on their understanding with quizzes embedded in videos
To arrange a workshop or consultation, contact A&II Director Ellie Hoffman.
Tech Tools & Tips
Save Time with the New Canvas Module Duplication Feature

You can now easily create consistency among modules or reuse the components and format of a module. To learn how, see this guide.
Recover Lost Canvas Content

No need to panic if you delete a page, assignment, or quiz by mistake. Canvas has a hidden undelete feature you can access by typing "/undelete" after the course id number in the course URL. You'll then see a screen that will enable you to restore the deleted item(s).

If you change part of a Canvas page and then want to change it back, you can review earlier versions of the page and restore the version of your choice. Note: this feature is currently only available for pages, not assignments or quizzes.
For more details, see this guide.
Get Expert Canvas Help Any Time

With SMU's 24/7 Canvas support, you can get assistance whenever you need it. Whether you want guidance doing something new, have a problem to be solved, or just have a question, Canvas 24/7 is your first line of support. It's available via phone, chat, or email—just click the Help icon at the bottom of the left blue menu bar on any Canvas page.
During the past year, about 35% of SMU faculty contacted Canvas 24/7 support. Most connect by phone, but online chat is quickly becoming a popular method.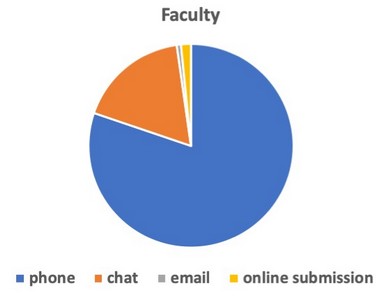 The Canvas Community offers solutions that other instructors have shared, or you can log in with your SMU credentials to ask you own question. Canvas also has a collection of FAQ articles for teachers and a Canvas video guide—because sometimes showing is better than telling.
If you have ideas or suggestions for this newsletter or would like us to highlight your work, please contact Christine Broz.